Shipping from the U.S. to Canada can be complicated and expensive, especially for eCommerce companies lacking the necessary resources and expertise. However, by leveraging a 3PL like CCLS for U.S. to Canada northbound courier consolidation, businesses can significantly reduce courier costs, streamline their shipping processes, and improve their customers' experience in Canada. We offer consolidated courier shipments to Canada from the U.S., which enables businesses to take advantage of economies of scale, resulting in lower shipping costs. In addition, our expertise in carrier selection, route optimization, and border clearance helps businesses to optimize their shipping processes, ensuring that their shipments arrive faster and more efficiently in Canada.
Partnering with CCLS for U.S. to Canada northbound courier consolidation also offers businesses full visibility tracking of their shipments, enabling them to monitor their deliveries in real time. Our advanced technology provides businesses with a dashboard that allows them to track their shipments' status, view delivery confirmation, and generate customized reports. Additionally, we offer border clearance services, which help businesses to navigate the complex regulations and customs requirements of shipping goods from the U.S. to Canada. By consolidating their courier shipments with CCLS, companies can give Canadian consumers an experience as if they were shipping from a warehouse in Canada, which can help to improve customer satisfaction and drive repeat business.
HOW CCLS CAN EFFICIENTLY HELP WITH U.S. TO CANADA NORTHBOUND COURIER SHIPMENTS
CCLS can efficiently help with U.S. to Canada Northbound Courier shipments by leveraging our expertise in logistics and transportation. Here are some ways we can assist:
Cross-border Expertise: CCLS has extensive experience managing cross-border shipments between the U.S. and Canada. They understand the complexities of customs clearance, documentation, and regulatory compliance, ensuring smooth transit across the border.
Network and Infrastructure: CCLS can offer reliable and efficient transportation solutions with their well-established network and infrastructure. They have a fleet of vehicles and access to various transportation modes, including trucks, air freight, and intermodal options, allowing them to tailor the logistics solution based on the specific needs of the Northbound Courier shipments.
Customs Compliance: Navigating customs procedures and regulations is crucial for international shipments. CCLS can assist in preparing the required documentation, including customs declarations, certificates of origin, and commercial invoices. They can also handle customs clearance processes, ensuring compliance with all relevant regulations and minimizing potential delays.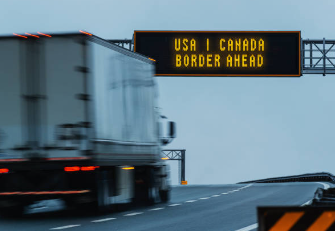 Tracking and Visibility: CCLS employs advanced technology and tracking systems to provide real-time visibility into the movement of shipments. They can offer online tracking tools and regular updates, allowing customers to monitor the progress of their Northbound Courier shipments and plan accordingly.
Time-sensitive Deliveries: If the courier shipments require urgent delivery, CCLS can offer expedited, time-definite transportation options. They can prioritize the shipments, coordinate with their network partners, and utilize dedicated resources to ensure timely delivery across the U.S.-Canada border.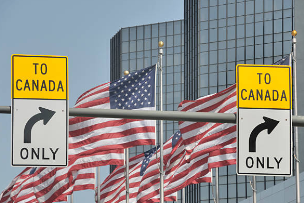 Customer Support: CCLS maintains a dedicated customer support team that is available to address any inquiries or concerns regarding US to Canada northbound courier shipments. Their knowledgeable staff can assist with tracking, documentation, and general logistics support, providing high customer service throughout the shipping process.
By leveraging its cross-border expertise, network, and customer-centric approach, CCLS can efficiently handle US to Canada Northbound Courier shipments, ensuring seamless transportation and delivery.
Contact us today to discuss how CCLS can help with your US to Canada northbound courier shipments.
Learn more about how CCLS can help with your US to Canada Northbound Courier Shipments.